1 winner of a 3 days and 2 nights trip to El Nido
Earn a raffle entry when you cash in, shop, and pay bills online using your BPI Online account or use the VYBE's Scan to Pay feature.

1 winner of Php 500,000 cash
Use your BPI Online account to cash in, shop, and pay bills; or Scan to Pay with VYBE for a chance to win.

3 winners of Apple products
Get a chance to win gadgets when you use your BPI Online account and VYBE E-Wallet.
1. The promo is exclusive to all BPI accountholders who are enrolled in BPI Online and VYBE by BPI registered users who are 18 years old and above.
2. To be eligible to join the raffle promo, client must use any of the following:

Platform

Mechanics

Minimum Spend

Customer Journey

VYBE by BPI

Use the VYBE app feature to earn a raffle entry:

50.00

1. Open the VYBE by BPI app

2. Select and Use the "Scan To Pay" feature when you are purchasing from the wide list of VYBE participating merchants.

BPI app (Branded Features)

BPI to Cash
BPI QuickPay 
BPI eGov
BPI eDonate

0.00

1.Open the BPI app

2. Tap 'Check out BPI shortcuts'

3. Select 'Services' 

4. Use any of the transactions.

Payment Aggregators:

DragonPay
Paynamics
2C2P Philippines Inc.
AsiaPay
Payexpress
Xendit
Piso Pay
Anyonepay
Alipay Plus
Paymongo
Swiftpay
MYEG
IPay 88
CEBECO
Leyeco V
Manila Water Company
SSS via SSS App (ECPay)
Sunlife

All single transaction with a minimum spend of Php 1,000.00 via a payment aggregator.

 

 

Php 1,000.00

Single transaction

 

 

Through the Payment Aggregator's merchant website or app, BPI accountholders must shop and pay in full a minimum of Php 1000 worth of purchases.

E-Wallets

GCash
Maya
ShopeePay
Lazada
GrabPay
MegaPay
USSC
DA5
Bizmoto
Cebuana Xpress
MPT DriveHub
Tollpass RFID
Pricelocq
Bayad

Cash ins and top up
Php 500.00 Single transaction
Through Partner eWallet's app, BPI accountholders must puchase, cash in or top up in full a minimum of Php 500 worth of purchases
3. BPI and VYBE clients will earn (1) Raffle entry for each eligible transaction.
4. If a BPI Accountholder exceeds the minimum amount on a single transaction, it will be considered as only one (1) raffle entry.
5. The following grand raffle prizes will be selected during the raffle draw:
Prize
Number of Winner(s)
How to claim the prize
Terms and Conditions
Php 500,000.00 cash prize (Tax-free)

1


 

 

To be credited to the winner's BPI Online account upon submission of the following requirements:

Copy of Winner Notification (Email or Direct Mail)

1 Valid ID

Signed Authorization to Credit 

TIN Number 

Tax Prize will be shouldered by Bank of the Philippine Islands


(1) 13-inch MacBook Air: Apple M2 chip with 8-core CPU and 8-core GPU, 256GB worth Php 76,990.00 

(1)  iPhone 14 Pro Max 128GB worth Php 87,990.00

(1) 11-inch iPad Pro (4th Gen) 

Wi-Fi + Cellular 256GB
Worth Php 75,990.00

 

3

 

GiftAway Vouchers (Digital) to be sent to the winner's registered email address upon submission of the following requirements:

Copy of Winner Notification (Email or Direct Mail)

1 Valid ID

GiftAway vouchers terms and conditions to be applied
3D2N Staycation for 2 in El Nido(In partnership with AirSwift and Seda Lio): 

Roundtrip Airfare via AirSwift for (2): Manila – El Nido - Manila

3D/2N stay at a Standard Room of Seda Lio, El Nido for (2)

Prize is worth Php65,000.00 (non-convertible to cash)

1

BPI to provide travel itinerary/voucher to the winner upon submission of the following requirements:

Copy of Winner Notification (Email or Direct Mail)

1 Valid ID

AirSwift T&Cs:

1. Voucher is non-refundable, non re-routable and not convertible to cash.

2. Confirmed booking is non-transferable.

3. Re-bookable but subject to applicable fees and charges. 

4. Booking shall only be made to AirSWIFT Reservation @info@air-swift.com or call (02)-53185941-42.

5. Flight booking should be made not later than 72 hours prior ETD.

6. Inclusive of terminal fee/ fuel surcharge, airport service and booking fee.

7. With 7kilos hand carry and 10 kilos check-in baggage. 

8. No extension on the validity date of the Voucher pass.

9. Unused expired –unique voucher code is considered null and void.

10. Bearer of the issued e-ticket from the tissued voucher code must be at the airport at least 1 hour prior flight departure.

11. Not to be used during the embargo dates: 

August 17-21 (Ninoy Aquino Day)
August 25-29 (Nat'l Heroes Day)
October 27-November 6 (All Saint Day)
Nov 30-Dec 3 (Bonifacio Day) 
Dec 7-11 (Feast of Immaculate Concepcion)
December 20 – January 8 (Christmas to New Year)
Feb 8-12 (Chinese Lunar Year 2024)
March 22 – April 1 (Holy Week 2024)
April 28 – May 02 (Labor Day 2024)

 

 

Seda Lio T&Cs:

1. Inclusive of Roundtrip airport transfers (Lio Airport - Seda Lio - Lio Airport), Daily breakfast

2. Rates are inclusive of 5% service charge, 12% VAT, and 2.4% local tax. 

3. Rates above are displayed per room per night.

4. Rooms are subject to availability.

5. Validity Period: September 2023 to September 2024

6. Embargo/ Peak Season is excluded/not allowed:

Christmas and New Year: December 20, 2023 to January 2, 2024
Holy Week – March 26, 2024 to March 31, 2024

 

For any questions regarding Seda Lio Accommodation, winner may reach them at Reservations.lio@sedahotels.com

 

BPI and Seda Lio are not responsible for the winner's meals and other charges (extra bed, use of spa, other activities etc.) are not included in the prize and will be charged to the winner/ customer's account.

 

 

Seda Lio and AirSwift and its parents, affiliates and subsidiaries are not responsible for the promotion, administration or execution of this raffle.
6. A BPI accountholder can opt not to participate in the promo by sending and SMS with the message: BPI172GrandRaffle<space>NO to 09178910000.
7. Bank of the Philippine Islands, together with a DTI representative witness, will select the winners of the raffle via Zoom / Microsoft Teams call at 2:00 PM; September 14, 2023. 
8. Determination of winners will be drawn electronically using the randomizer on www.random.org with the list of eligible entries.
9. A winner can only win once. If a name is drawn more than once he/she gets the prize of a higher value.
10. Winners will be notified via their registered address through direct snail mail from BPI. The announcement of winners will be announced/published on September 22, 2023 via BPI's corporate website.
11. Winners may claim their prize within 60 days from receipt of notification, otherwise, prizes will be forfeited in favour of BPI with prior DTI approval. 
12. This promotion is non-transferable and non-cumulative, and it cannot be used in conjunction with any other promotion, discount, voucher, privileges, or membership promotion (unless otherwise specified).
13. This promotion cannot be exchanged with cash, credit limit, other promotions/ discounts/ products/services.
14. The qualified clients who use this promo are subject to the terms and conditions of BPI.
15. Employees of Bank of the Philippine Islands, it's, suppliers, concessionaires, third party agents and their relatives up to the second degree of affinity or consanguinity are disqualified from joining the promo.
16. BPI reserves the right to terminate, amend, or add to any of these terms and conditions from time to time with at least five (5) calendar days prior notice to the customers before the new terms and conditions take effect.
17. By participating in the promo, the BPI accountholder authorizes the bank to share his or her relevant information (including personal information) to suppliers or merchants for purposes of the redemption and processing of the prize in the event he or she is declared a winner.
18. By participating in the raffle draw, the client agrees to the terms and conditions set by BPI governing the rules of participation. BPI reserves the right to verify the client's personal information for the administration of the raffle. In the event such verification is not accomplished to the satisfaction of BPI, the client will be disqualified from the raffle with prior DTI approval.
19. BPI reserves the right to forfeit the prize or invalidate the awarding to the winner should it be proven that the winner has provided any false information or committed any fraudulent act. In case of such an event, BPI. may redraw another winner in the presence and upon approval of DTI.
*Notice: The merger of BPI and BPI Family Savings Bank (BFSB) is now official. We have begun merger activities. Until such time that we complete the integration of BFSB accounts with BPI, please continue using your existing BFSB account details to avail of promos. For more information, visit the OneBPI page.
For inquiries and comments, send us a message or call our 24-hour BPI Contact Center at (+632) 889-10000.
Per DTI Fair Trade Permit No. FTEB-172503 series of 2023.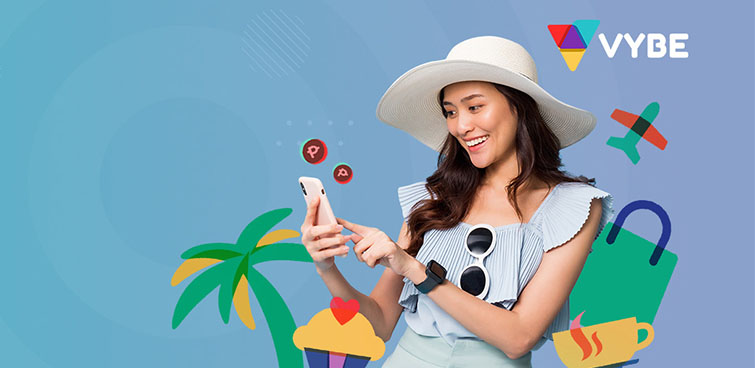 VYBE
Your new one-stop app for everyday cashless transactions and rewards.