April 27, 2023, Makati City, Philippines – The Bank of the Philippine Islands (BPI) outlined in its Annual Stockholders' Meeting on Thursday a strategy to elevate financial inclusion through digitalization, customer obsession, and sustainability.

Noting the Bank's record net income last year of Php 39.6 Bn, a 66 percent increase from the previous year, BPI Chairman Jaime Augusto Zobel de Ayala said, "Our robust financials anchor our mission to elevate financial inclusion through our digital and sustainability initiatives."
BPI President and CEO Jose Teodoro K. Limcaoco described the past year as one of renewed strength and sustained recovery. "We were prepared when the economy recovered, and the world reopened for all sorts of business opportunities. We accelerated our efforts and launched various initiatives that would solidify BPI's stance on our key strategic priorities of digitalization and expansion, enhanced and inclusive customer experience, and sustainability innovations," he said.

Financial inclusion through digitalization
In 2022, BPI introduced two new platforms—BizKo for small and medium enterprises (SMEs), and one-stop lifestyle and payment app VYBE—affirming the bank's commitment to provide smart, convenient, and secure financial solutions for clients' evolving needs. BPI has planned for seven customer engagement platforms, six of which are now live: BPI Mobile and BPI Online for retail clients; BPI Trade Online for stock market investors; BanKo app for self-employed micro-entrepreneurs; BizLink for corporate clients; and BizKo and VYBE.
The bank also established Agency Banking, which will enable a network of partners composed of department stores, supermarkets, convenience stores, gas stations, and online partners to serve customers through tech-enabled infrastructure. One of the group's initiatives was the launch of the BPI Flagship Store in Lazada, where clients can open a deposit account, apply for an auto or mortgage loan or credit card, and soon shop for insurance and investment products.
"We are very excited with this latest technological innovation because it will change the way BPI can reach, acquire and serve more customers, especially in geographically and socio-economically challenged areas, thereby bringing us closer to our goal of financial inclusion," Limcaoco said.
The Bank has nearly 6 million clients enrolled on its digital channels, with an open banking infrastructure that provides access to 2,200 products and services by over 100 partners. "Our efforts are truly paying off, with many new customers coming to the bank through digital channels and complementing those that come through our branches. This brings us closer to our aspiration of 50 million Filipinos banking with BPI," he added.
Customer obsession through 'phygital' strategy
On top of its digitalization efforts, BPI embarked on an internal customer obsession program, which allowed the bank to serve more customers, process more transactions, and significantly improve its Net Promoter Score (NPS), a measurement for client loyalty and satisfaction. The Bank also assigned customer delight officers, empowered decisions at the frontline, and created agile teams to address common customer pain points.
BPI also merged with thrift bank subsidiary BPI Family Savings Bank, enhancing clients' overall banking experience by offering them a full suite of products and services. It reduced its branch network by integrating or co-locating branches while growing the branch count of its microfinance arm, BanKo, to support financial inclusion and address the needs of self-employed microentrepreneurs.
"We will continue to perfect our 'phygital' strategy—a combination of our enhanced physical branches and safe, smart, and secure digital platforms," Limcaoco said.
"ESG+E2" for sustainable banking
As BPI believes that a sustainable approach should be economically viable, it has developed a unique formula: "Environment, Social, Governance + Economic Benefits" or ESG+E2.
Adhering to this formula, the bank achieved important milestones in 2022. It spearheaded the Energy Transition Finance Facility, a landmark program which reduced the life of a coal generation plant by 15 years. The bank also launched the Philippines' first Invest Sustainable Fund Suite; the Green Savers Time Deposit, which offered highly competitive rates for deposits supporting green loans; the BPI-AIA's Pamilya Protect insurance for the whole family via digital platforms; and NegosyoKo Lite, which made financing more affordable for self-employed micro-entrepreneurs (SEMEs).
Also, select BPI-owned buildings shifted to 100% renewable energy use, while five BPI branches were certified for Excellence in Design for Greater Efficiencies (EDGE) by the International Finance Corporation, a member of the World Bank Group. EDGE is a green building certification with quantitative metrics, providing cost-effective strategies to reduce energy use, water use, and embodied energy in materials.
BPI also organized its first Sustainability Summit for employees and established the Philippine's first Sustainability Awareness Month last June, when it held a series of learning activities together with local and international partner institutions.
"We at BPI are committed to ensuring that sustainable growth and development remains at the center of our strategy and activities as we continue to pursue our vision to be a responsible and sustainable bank," Limcaoco said.
Great things ahead
BPI's Chairman noted that, in October 2022, the Bank disclosed plans for a merger with Robinsons Bank Corporation (RBC), with BPI as the surviving entity. "We have already secured Board and Shareholder approvals for the merger which will expand our reach, grow our portfolio, and unlock various synergies across the ecosystem of both banks. We are very excited to see the outcome of this merger and look forward to all the great things ahead," Zobel de Ayala said.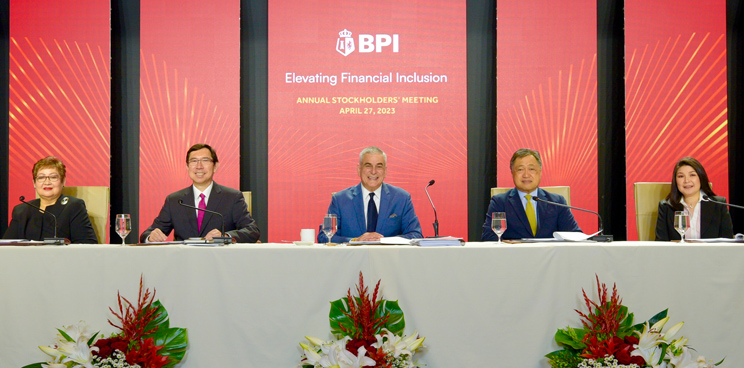 BPI Chairman Jaime Augusto Zobel de Ayala (center), and President and CEO Jose Teodoro K. Limcaoco (2nd from left)) preside over the bank's Annual Stockholders Meeting together with (L-R) Director and Chair of the Board's Audit Committee, Maria Dolores B. Yuvienco; Director and Chair of the Nomination Committee, Cesar V. Purisima; and Corporate Secretary Maria Lourdes P. Gatmaytan.